Here's the Graphic Inspired challenge. Here's the image to inspire you... The challenge is to use this image to inspire you to create a layout... Click on the image to get a larger view of it... To find out more about how the Graphic Inspired challenge works, check it out
here
...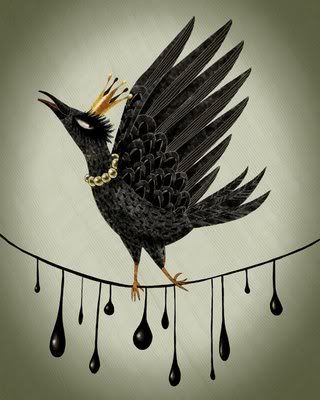 "Image produced by Sok Kuan"
Here's a description of the image from Sok Kuan
"This crow is actually one of Sophie Black's best friend. Sophie Black series is my personal project (to find out more , pls visit http://ssophieblackk.blogspot.com ). Every best friend of Sophie Black reflects each of her characters. Ms Crow looks cool in Black. She is a diva, she thinks that she is the queen of all birds. Besides sharing the interest in Black colour, such confidence found from Ms Crow is what Sophie aspires to have. This series is executed in a dark way, because I want to show the dark side, or the weak side of a girl in a sincere way."

Email me at feliscraps_challenge [at] hotmail.com with a maximum of 3 photos of your layout with a description of it by 28th November, 12 noon. Voting starts right after all the layouts are posted on the blog!

I hope this challenges you to come up with something creative! So let your creative juices flow, DO IT DIFFERENT and just have fun! :) I can't wait to see what you come up with...

Do check back the next few days to see my take on the challenge! Will leave you to think about the challenge!